CSA SG Cyber Safe Trust Mark & Essentials Mark
CSA SG Cyber Safe Trust Mark & Essentials Mark
Since COVID-19 pandemic, business dynamics have changed, and more businesses go digital and there is growing concern of potential cyber-attacks so for enterprises to raise their cybersecurity posture such as through SG Cyber Safe Programme.  
With this, the Cyber Security Agency of Singapore (CSA) have launched a program titled Cyber Essentials Mark and Cyber Trust Mark Certification.  
1.Cyber Essentials Mark 
What is CSA Cyber Essentials Mark? 
The Cyber Essentials Mark certification is intended for organizations that are beginning their cybersecurity journey. Its purpose is to acknowledge that the organization has established sound cyber hygiene practices to safeguard their operations and clients from prevalent cyber threats.
Cyber Essentials Mark is a cybersecurity certification for organizations that are embarking on their cybersecurity journey. It serves to recognize that the organization has put in place good cyber hygiene practices to protect their operations and their customers against common cyber-attacks. The Cyber Essentials mark is targeted at organisations with limited IT and/or cybersecurity expertise and resources to dedicate towards protecting IT assets and personnel. Cyber Essential Marks certification is valid for two (2) years, and to maintain the certification status, enterprises are required to undergo recertification/ revalidation assessment.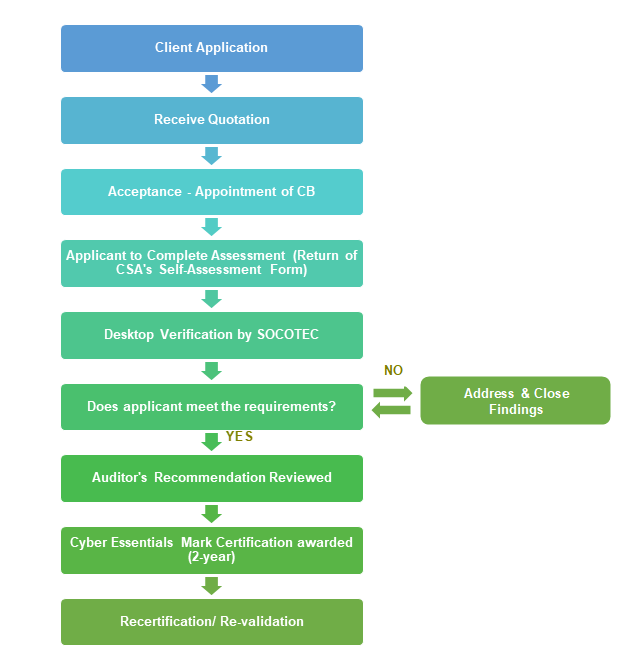 Benefits of Cyber Essentials Mark 
Organizations able to tailor to your organization's cybersecurity needs, 

Guides organization to implement cyber hygiene measures against common cyber-attacks,

Provides recognition of your cybersecurity practices. 
2.Cyber Trust Mark 
What is Cyber Trust Mark? 
The Cyber Trust mark is a cybersecurity certification for organisations with more extensive digitalized business operations. It serves as a mark of distinction for the organization to prove that they have put in place good cybersecurity practices with their cybersecurity risk profile.  
The Cyber Trust mark is targeted at larger or more digitalized organisations that have gone beyond cyber hygiene. These organisations may have higher risk levels and would correspondingly invest in expertise and resources to manage and protect their Information Technology (IT) infrastructure.  
For Cyber Trustmark, the certification is valid for three (3) years, enterprises are required to undergo recertification/ revalidation assessment to continue the certification. On a yearly basis, enterprises under Cyber Trustmark will undergo interim technical audits and validation checks/ assessments.  
There are five (5) cybersecurity preparedness tiers and progressively improve its system for higher recognition. The award of Trustmark from certification bodies are in accordance to the outcome of assessment where the entities fall under: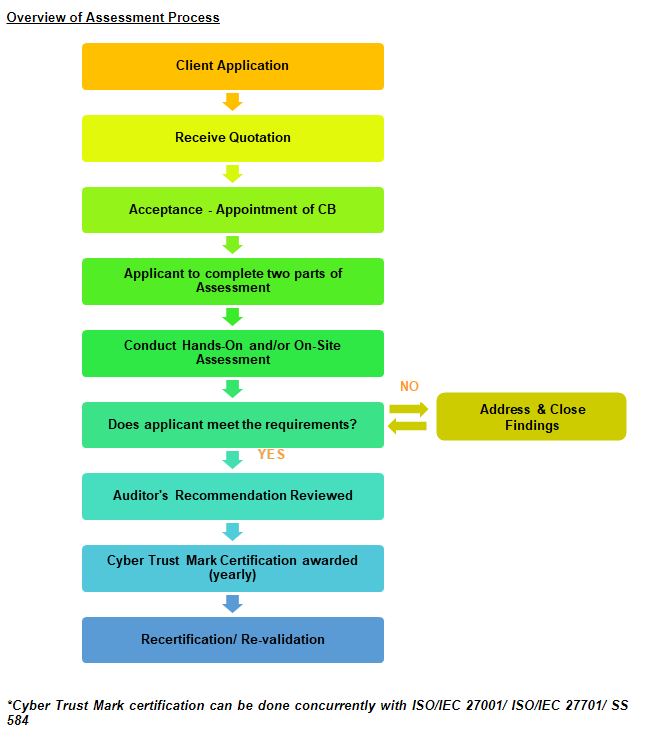 Benefits of Cyber Trust Mark 
Provide organizations with a mark of distinction for robust cybersecurity, 

Provides a pathway to international cybersecurity standards such as ISO/IEC 27001,

Provides a guided approach for your organisation to assess cybersecurity risks and preparedness, 

Takes on a risk-based approach to meet your organisation's needs without over-investing.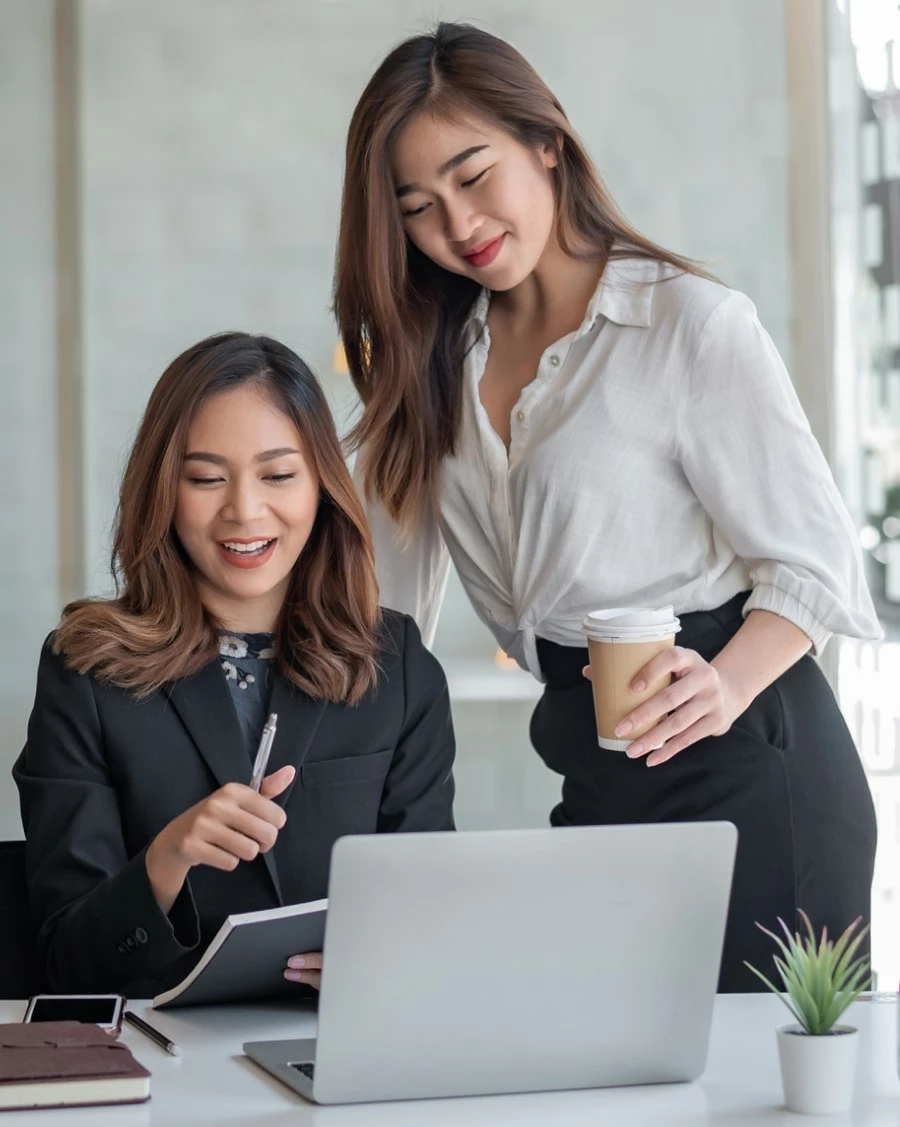 Our Expertise
Why get certified with SOCOTEC Certification Singapore?
SOCOTEC Certification Singapore is appointed by the Cyber Security Agency of Singapore (CSA) to conduct Cyber Essentials Mark and Cyber Trust Mark audits. Aside to CSA SG Cyber Safe Trust Mark & Essentials Mark, SOCOTEC Certification Singapore is able to provide one-stop solution to organizations such as:  
Data Protection Trustmark, 

Cyber Security Code of Practice (CCoP) compliance audit, 

Cross Border Privacy Rules (CPBR) and Privacy Recognition for Processors (PRP) System, 
SOCOTEC Certification Singapore is appointed by the Cyber Security Agency of Singapore (CSA) to conduct Cyber Essentials Mark and Cyber Trust Mark audits. Aside to CSA SG Cyber Safe Trust Mark & Essentials Mark, SOCOTEC Certification Singapore is able to provide one-stop solution to organizations such as:  
Data Protection Trustmark, 

Cyber Security Code of Practice (CCoP) compliance audit, 

Cross Border Privacy Rules (CPBR) and Privacy Recognition for Processors (PRP) System,